Understanding Transmission Fluids
Transmission fluid keeps the car's transmission's components lubricated properly so that it can perform optimally.
There are a few different types of ATF (Automatic Transmission Fluids) and which type of fluid is used depends on factors such as the car's manufacturer and the type of transmission. To find out which transmission fluid you should be using, check out the owner's manual and read the "Maintenance" section.
Even though the transmission fluid is mainly used as a lubricant for the transmission, it also serves many other purposes. Some of these purposes include:
Reducing the overall temperature of the transmission
Conditioning of the gaskets
Keep metal components clean and prevent them from wearing
Increase rotational speed of gears through lubrication
Why Should I Change My Transmission Fluid?
Just like the other oils which your car uses to function at its full potential, transmission fluids slowly deteriorate the more that you use your car. If you use your car frequently or under high load such as towing, the fluid will deteriorate at a much faster rate due to the overall operating temperature of the fluid increasing because of increased pressure on the transmission.
An automatic transmission produces a lot more heat than a manual transmission and because of that, the fluid deteriorates at a much faster rate. On top of this, much like a manual transmission, the fluid can be contaminated with small metal fragments over time and if the fluid isn't replaced, these metal fragments can cause some serious damage to the transmission.
If your transmission fluid isn't changed at its recommended service interval, you may find that your transmission starts to decrease in performance. This may also damage your transmission and will also result in your transmission's life being shortened significantly.
How Long Does Transmission Fluid Last?
Some car manufacturers suggest that you change your transmission fluid every couple of years, or between 50,000km and 100,000km. This ensures that the transmission fluid which is currently in the transmission is performing at its optimal level, and that your transmission is doing its job efficiently.
What Transmission Fluid Do I Need?
Which transmission fluid should be used differs depending on the car. In order to make sure that you're using the most appropriate transmission fluid for your vehicle, read the owner's manual. In this section, you'll find a recommendation from the car's manufacturer regarding which transmission fluid & specification you should use.
Common types of ATF's include
Mineral, semi-synthetic or full synthetic varieties
CVT (continuously variable transmission)
DCT (dual clutch transmission)
Many vehicle manufacturers will have their own unique requirements however some more commonly referenced specifications include:
GM DEXRON® fluids are very popular & typically backwards compatible. For instance a GM DEXRON® III fluid will typically suit vehicles that require a GM DEXRON® II fluid. Ford MERCON®
Type F/Type G fluids are typically for older vehicles & often don't have as sophisticated additive packages.
Popular vehicle manufacturers including BMW, Holden, Honda, Hyundai, Nissan & Toyota have their own unique specifications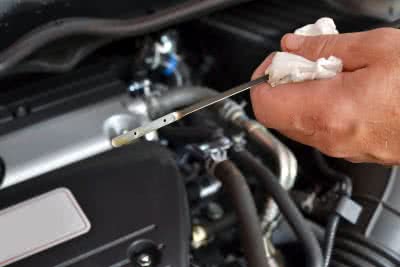 Make sure to check your transmission oil level and condition regularly
What Happens When Transmission Fluid Is Low?
If your transmission fluid is too low then the transmission will begin to slip or jerk forward when you switch gears. You may also find that the RPM increases while you have the car in neutral or that it slips out of gear without reason. On top of this, your gears may not switch properly causing the transmission to get incredibly hot, resulting in damage due to a lack of lubrication.
Another sign that the transmission fluid level is too low is if you smell a burning smell (caused by a build-up of heat as a result of poor lubrication). Although a manual transmission will continue to operate, it can be damaging to the transmission if you continue using your car due to the lack of fluid.
How Do I Know My Transmission Is Slipping?
If transmission slipping occurs then it should be dealt with immediately, especially if an automatic transmission is fitted to your car. While at first, it may seem like such a minor issue, it can quickly escalate and become an expensive nightmare to deal with. While it's a scary thing to experience, a slipping transmission doesn't necessarily mean a failing transmission but it can mean that some severe maintenance is required.
Some common signs of a slipping transmission include acceleration delays, problems reversing the vehicle, unusual noises & burnt smells.
What Is The Difference Between Normal Oil And Transmission Fluid?
Regardless of whether your car is fitted with an automatic or manual, the transmission plays a key part in making sure that your car runs properly and without the right fluid, your transmission will either perform terribly or not work at all.
The main difference between engine oil and transmission fluid is that while engine oil is primarily a lubricant, transmission fluid is also hydraulic fluid. Although they are very similar liquids, they have different properties and are used for different jobs.
Although transmission fluid includes lubrication properties, it is not suitable for the engine due to other additives added to engine oil. On the other hand, while engine oil is primarily used as a lubricant, it can't be used as a hydraulic fluid. In some instances you can also use a transmission fluid for a power steering system without any damage being caused since power steering in most vehicles is a hydraulic system.