Looking to see some of the best beaches in the world, check out Cape York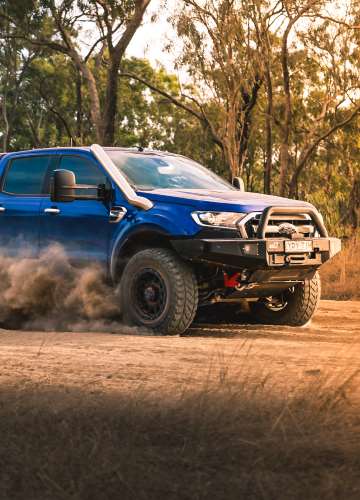 Where is Cape York?
Sydney to Brisbane is a hell of a trek at the best of times, now imagine if the whole journey was on dirt roads, with zero signs of civilisation for hours on end, wild expanses of untamed scenery, and would have you lifting wheels and running winch lines just to make the journey.
Throw in some of the best beaches in the world, and you've got Cape York. An epic off-road run north of Cairns that'll see you living almost exclusively off the blacktop for weeks on end just to do the whirlwind tour.
Things to do on the Peninsula
With a landmass comparable to Victoria, few townships, and sometimes days between any kind of amenities Cape York is a journey not for the faint of heart, but rewarding beyond belief for all game enough to load up the 4WD and point the spotlights north, here's just a taste of the things you'll find…
Top 10 things to do on your Cape York adventure
Stand at the tip of Australia

There's nothing like standing at the edge of a continent, except standing there when it's taken you the best part of two weeks of serious 4WDing to make it happen. The last kay or so is a hike up over a ridge line but the feeling of accomplishment standing by that sign more than makes up for it.

Hold a Crocodile

The Cape's not all wilderness and remote beaches, there's crocodiles too. Thankfully some of them are in captivity allowing you to get up close and personal without putting yourself in danger, some places will even let you hold a baby croc giving a new appreciation for them.

Visit the Daintree

Tourists travel from all over the world to visit the Daintree Rainforest so make sure you stop in for at least a night on your way north. It's an ancient landscape with deep rainforests like nowhere you've seen before. Cape Tribulation is a great place to base yourself for exploring the area.

Take on the Tele Track

Make no mistake, if you're heading to the Cape to do serious 4WDing the Tele Track should be front and centre of your list. Allow three days to do it top to bottom, with wild camps the full length and some of the most challenging river crossings you'll ever face. It's an adventure you'll remember for a lifetime.

Drive through the Savannah's at Sunset

Out near the east coast of the peninsula is a huge swarth of land known as Lakefield National Park – you could spend a lifetime out here exploring the region, but even travelling along the main route Battle Camp Road will have you feeling like you're in the wild Savannah's of Africa.

Eat an Archer Burger

The Cape is lined top to bottom with outback roadhouses. Hours apart from each other they all have their own unique character so are well worth a stop in. The Archer River Roadhouse is an absolute must-do though, their burgers are the size of your head and almost a right of passage for travellers.

Do a day trip to Thursday Island

The far northern reaches of Australia are an area unlike anything you'll experience anywhere else, but they don't stop when the mainland does. Jump in a fishing boat for the day or on the ferry and explore the Torres Strait Islands – we highly recommend visiting the most northern pub in Australia.

Have a Pizza at Punsand Bay

It's not all roughing it and bugs in your teeth, north of the Jardine River and tucked deep in the scrub is a caravan park called Punsand Bay, home to some of the best pizzas in the country and the perfect place to unwind after a few weeks in the bush.

Drive the Pasco River

Driving the Pasco River is a badge of honour for all who have done it. While the Tele Track is undoubtably the highlight, the Frenchman's Track is reserved for those looking for an extra challenge. Depending on the time of year it can be anything from a difficult crossing, to raging water that'll chew up and spit out a b-double without a second thought.

Grab a photo in the Bulldust

In the dry there's hundreds of kilometres of dirt roads getting driven by everything from road trains to hatchbacks, the result is deep holes full of bulldust, a talcum powder like substance that makes some of the best 4WD photos you can imagine.
How to do Cape York
Cape York is a vast wilderness area with countless tracks and even more campsites, you will not see it all in one hit. You'd be lucky to see it all in 10-month long trips. With that in mind, your best bet if you're a first-timer in the region is to give yourself a little taste of all areas so you can start planning your next trip to explore the areas in more detail.
Our typical go-to route is heading anti-clockwise up through the Daintree, out to Eddy's Camp on the east coast by the painted cliffs, before crossing over Battlecamp Road and making our way up the guts. On the way back down is the perfect time to head out to the west coast and see the mining town Weipa as well as some of the more remote regions of the Cape. However you decide to do it, you'll be hooked for life though so don't be afraid to leave areas to explore later.
Location camping fees and permits
Travelling through the Cape will see your route take you through multiple national parks and potentially into some Aboriginal towns so your camping fees and permits required will be largely dictated by the exact route you take. In most national parks there are no fees or permits required depending on where you're staying, but most popular campgrounds will require booking.
You'll also need to pay the ferry fee to cross the Jardine River if you're heading to the tip, the fee includes camping permits for the region and is one of the sole sources of income for the town.
Top 4WD Tips for Cape York
Take a Winch

If you're taking on some of the more adventurous tracks in the Cape you'll need a quality 12v winch strapped to the front of your 4WD. If you're there not long after the wet the tracks will be half under water and half covered in mud. If you're there in the heart of the dry they'll be deeply rutted with steep exits – in either situation you may find yourself needing a little extra help to get you out of strife.

Make sure your 4WD is water tight

The Tele Track and Frenchmans Track are both known for their endless water crossings. We've floated LandCruisers across Nolan's Brook and flooded distributers in the depths of Cockatoo Creek – A little TLC on your 4x4s drivetrain, and maybe blocking up those missing floor plugs can save you a world of hurt before you set off.

Bring a Jerry Can

Let's get one thing clear straight away, while the Cape might be remote, it's not like you're crossing Africa on a uni-cycle. When you're planning your route out you'll notice the whole peninsula is littered with road houses so fuel is never more than a few hours away. Unless you're planning on spending a week camped on the one beach a simple jerry can should give you enough to get back to the nearest bowser.

Take a Shower

Just before and after the wet, the Cape is hot and muggy so you'll be a sweaty mess, in the guts of the dry it's unbelievably dry and dusty, so you'll be a dirty mess, see where we're going with this? In many places, you can swim safely, but not always, so bring a basic outdoor shower with your gear.

Bring a UHF

whether you're taking on the tip on your own or in a convoy you'll need a quality UHF, the main road known as the Peninsula Development Road is the main trucking route too so you'll need to be able to contact the truckies and ask for a safe spot to come around, they'll have a dust cloud behind them for hundreds of meters.
Australia like you've never seen before
Make no mistake, Cape York is Australia in its most raw form. A few weeks north of Cairns and you'll not only have countless stories to tell of epic sunsets, croc watching from your rooftop tent, and river crossings so deep they'd swallow a caravan if you get them wrong, you'll also have a new appreciation for just how wild this country really is when you get out past the city limits. Cape York shouldn't just be on your bucket list; it should be the very first entry.