A clean windscreen and windows is not only important to the overall look of your car, but is also essential for your safety. So make sure you keep yours crystal clear – and most importantly safe.
What You'll Need:
Ammonia-free glass cleaner
Glass cleaning cloths
Microfibre cloths
Glass scrub
Rain-X
Anti-fog
Tips and Warnings:
Avoid parking your car in the sun while cleaning your windscreens and windows, the cleaner can evaporate leaving an unpleasant residue or smudges.
If the window dries too quickly when applying the products and you haven't achieved your desired finish, dampen the cloth a little and repeat the process.
Before You Start
When you clean your car, the glass should be the last thing you do, so make sure you do all your washing, waxing and polishing beforehand.
To prepare for cleaning your windscreen and windows, park your car out of direct sunlight so that the glass is cool to touch. This ensures that the cleaning product won't dry up too quickly and leave unwanted smudges.
Step 1 - Spray and Wipe the Outside Glass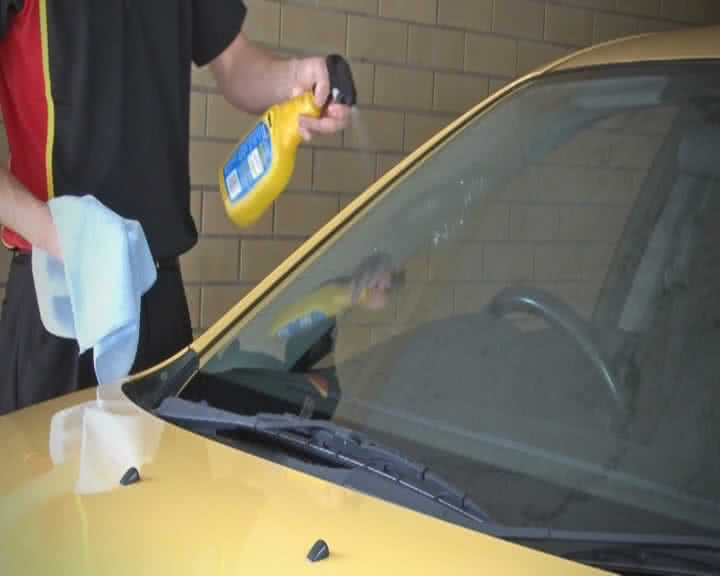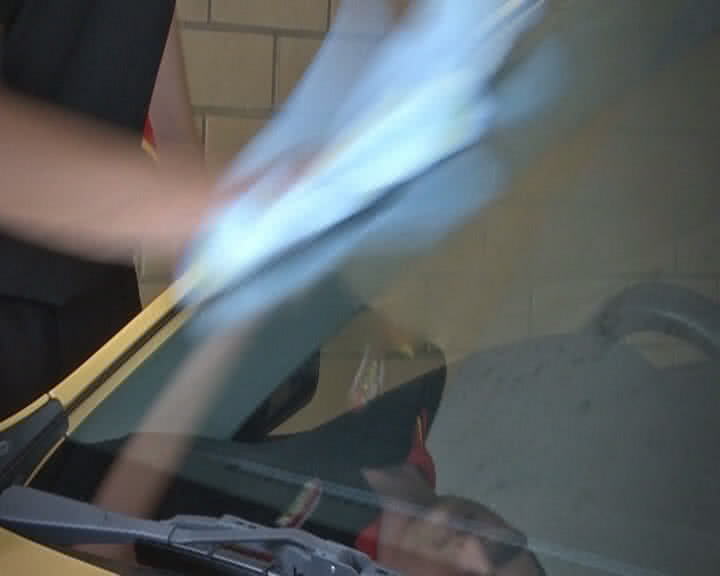 Spray the product directly onto the glass, and wipe with a microfibre cloth. Keep turning the cloth to a dry portion to polish the glass. If you need to, use a new dry cloth to clean off the remaining moisture.
Step 2 - Repeat for the Inside Glass
Now that the outside is clear, it is easier to see the marks on the inside of the glass. Repeat the process for the inside of the car to ensure a spotless finish.
Optional Additions
Glass scrub will remove built up road grime, bugs and other nastiness from the glass. As a general rule, follow the instructions on your product label to apply – some products will contain chemicals which help dissolve the bug residue after a short soak and wipe, while others require a bit more elbow grease.
Rain-X forms a layer on the glass which helps the water glide off and provides better, safer vision in wet conditions, particularly at night. Apply Rain-X to one half of your windscreen at a time in a circular motion using a soft microfibre cloth. Then, buff with a dry cloth from bottom to top until glass is clear from residue.
If you've ever had a windscreen fog up on you, you'll know just how wonderful an anti-fog can be. It forms a layer on the inside of the glass that will stop it fogging. To apply, put a small amount of the anti-fog on a cloth and use it to wipe the glass surface. Once dry, buff off any remaining residue with a dry cloth. Repeat this process on all interior glass surfaces, including the rearview mirror, side and rear windows.