How Does a Battery Box Work?
So you'd like an extra battery to power your camping adventures. But there's no space for one under your bonnet! Or, maybe you just want a completely portable option. A battery box is the answer for you.
A battery box is necessary to protect both the battery, and your vehicle. A battery exposed to the elements, say – in the back of a ute – will succumb to the weather very quickly. A battery box will contain acid spills, and prevent impact damage from stray cargo – a mishap which could even short out the battery and cause a fire!

What Is a Battery Box Used For?
In its most basic form, a battery box like either of these from Calibre or Ridge Ryder will provide you all the security to avoid such hazards. The Calibre lid design allows cables to pass in and out of the box to charge the battery, and power your accessories. You'll need to sort out wiring to charge the battery, and outlets to power your accessories, such as USB and accessory ports – or Anderson plugs. These battery boxes are perfect if you don't intend to move your battery around.
What does Supercheap Auto Stock?
Battery Range - We stock a huge range of automotive batteries to suit most bikes, cars and large 4x4s that are charged and ready to go.
Battery Box Range - If you're after a high quality battery box, check out our range of battery boxes from the simple to complex boxes with a selection of connectors, volt meters and charging points, we'll have something for you.
Battery Accessories - Need new battery leads, terminals or a base plate and hold downs? We have those too!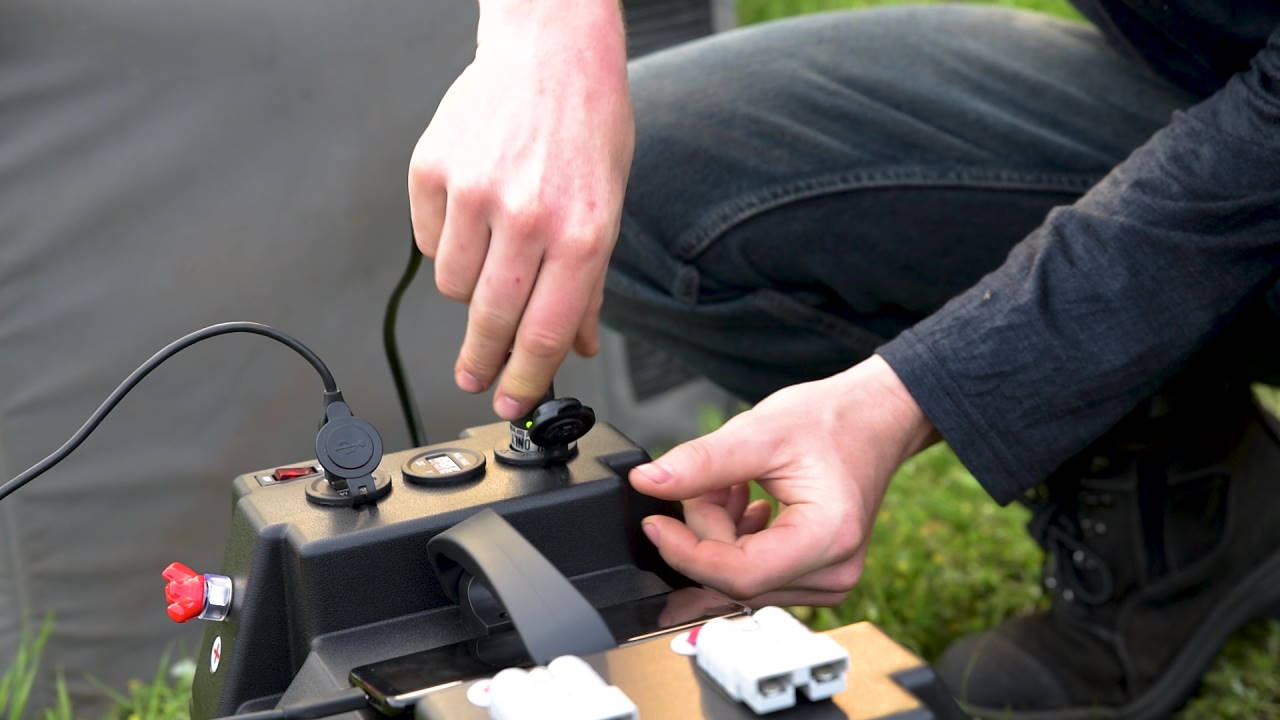 What Is The Best Battery Box?
The Ridge Ryder box comes pre wired battery box comes with some of the work done for you. Typically, you get heavy duty external connections for charging or powering high amperage devices. It comes with a single accessory socket, 2 x USB ports, 2 x 50 Amp connectors, a battery charge indicator; a circuit breaker & fuses for safety. While you can fix these battery boxes in your vehicle just like the more basic model; you can secure them with tie downs - so they can easily be made portable.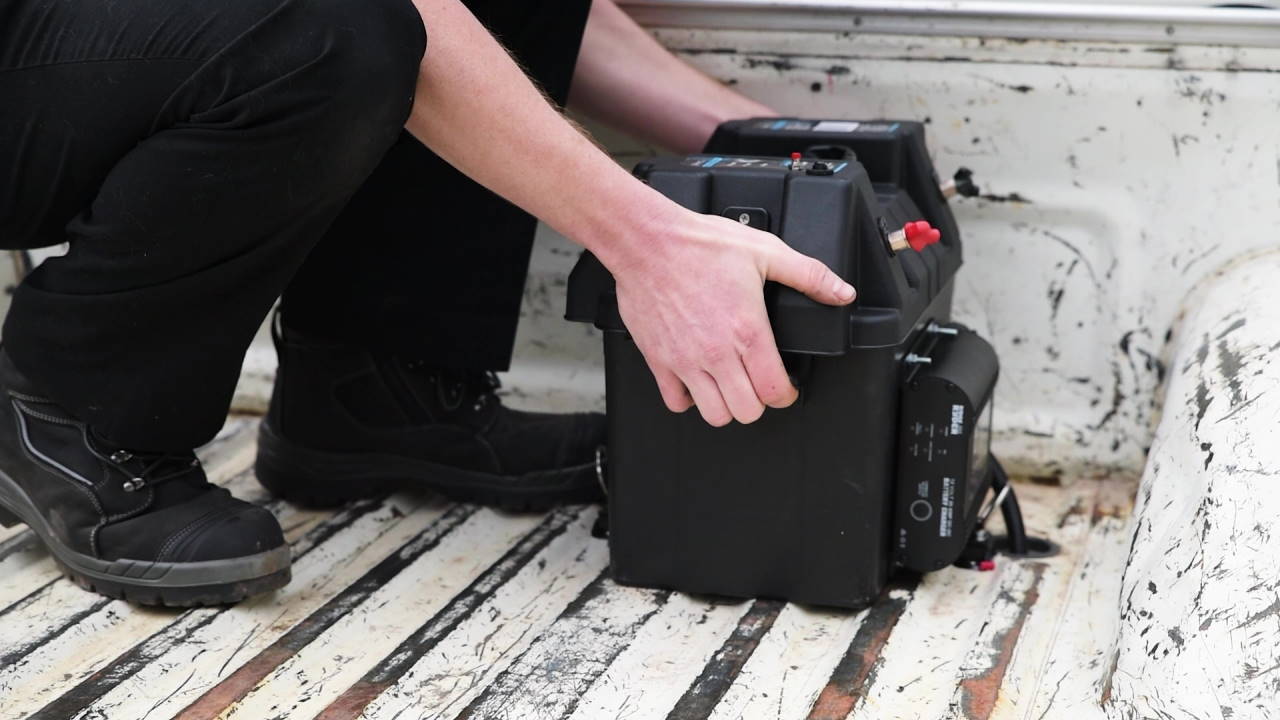 Just unplug the charge wiring, and any accessories connected to the battery box - and place it right in the middle of camp! Or leave it in the shed on a trickle charger, ready to grab and go for your next adventure. As with any battery installation outside of the engine bay; all of these options will require a DC charger to deliver a proper charge current from the vehicle. However, at the top end of the battery box market; portable power packs often include inbuilt DC chargers – allowing for charging from an accessory socket in your vehicle. A truly 'grab and go' solution.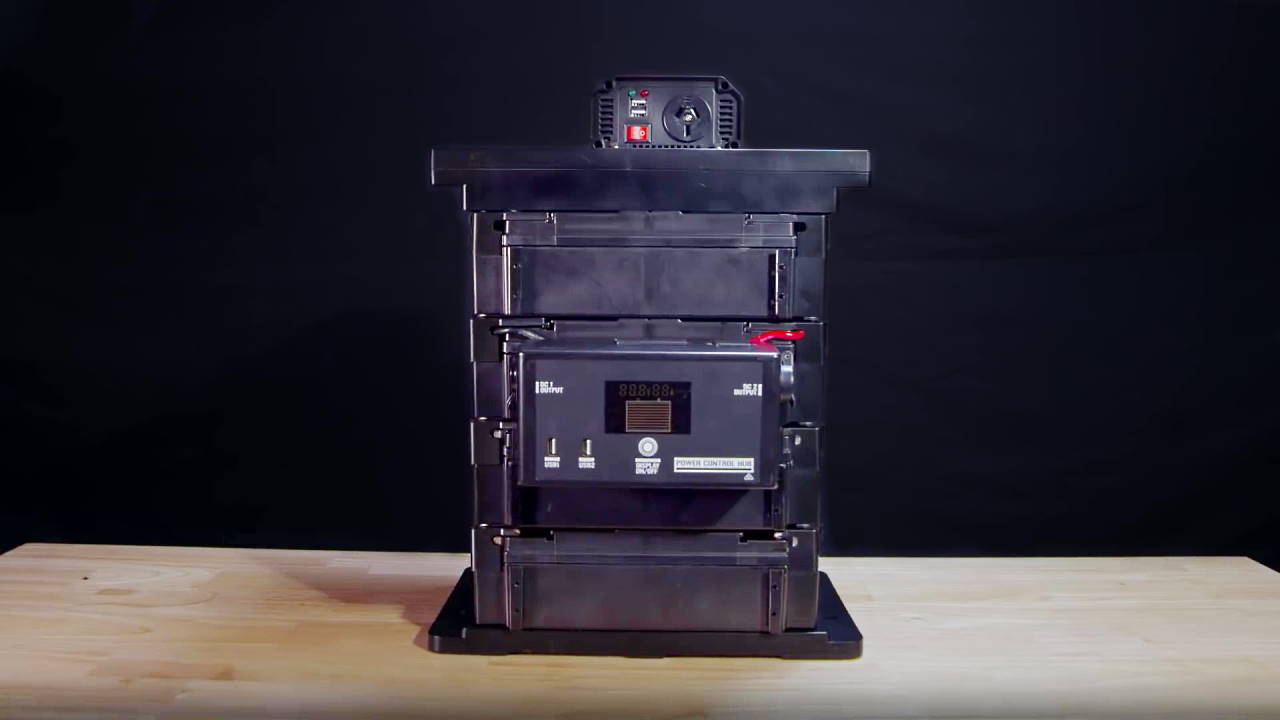 What's Better Than a Battery Box? Stackable 12v Power Packs
The Ridge Ryder Stackable Power Pack is an alternative to purchasing a battery 'and' a box. This solution starts with a single module - which can be expanded to suit your requirements. Add the Ridge Ryder Control Hub for a selection of output options. Grab a mounting base to secure the unit in transit – then easily remove for charging at home; or moving around camp. Use the top plate to mount an inverter, or DC charger to create a fully self-contained unit.
For more information on charging, wiring and installation; check out the entire Supercheap Auto Battery Fundamentals series – and you'll be an expert in no time.