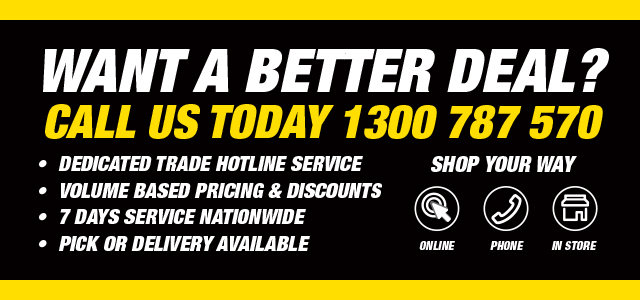 Trade Direct Discount Cards
Supercheap Auto Trade Direct Discount Cards are available now in your local store. Not only will you get access to our range of over 10,000 products in store but you can now access your Trade Direct membership online. View the latest Trade Direct catalogue, update your details and purchase online for Home Delivery or Click & Collect now.
Hotline access to industry experts
No application or ongoing fees
Receipt free warranty
Over 1,000,000 items available
7 Day service nationwide
Monthly trade specials
Nationwide network of 270+ Stores
Volume based pricing & discounts available by calling the Trade Hotline on 1300 787 570
How do I apply?
Sign up for a Trade Direct Discount Card in store today, we will require your ABN number and contact details to initiate sign up.
Talk to one of our team in your local supercheap auto store to find out more about signing up for a Trade Direct Discount Card.
Trade Online Membership
Now available exclusively to Trade Direct Discount/Cash card holders! Update your details to access your Trade Online membership.
You can now access all all of the benefits of your Trade Direct Discount Card online - Plus much much more...
Buy online for Home Delivery or Click & Collect
View the latest Trade Direct catalogue
Update your details
View your sales history
Track your online orders
and access new and featured products at the click of a button.
Are you an existing member? All you need to do is update your membership with a valid email address, call 1300 787 570 during business hours.
Log In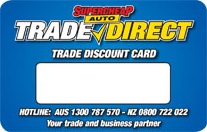 Need Help?
For more information ask a Supercheap Auto team member in store or contact us via phone or email.
Please call 1300 787 570 (Within Australia)
or contact us via email on trade@supercheapauto.com
Hotline available 7 days a week.