An 'overseas' four wheel drive adventure just three hours drive from Brisbane!? This is Fraser Island.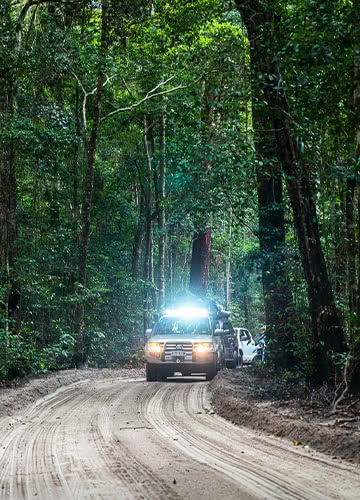 What is Fraser Island all about?
Fraser Island is the largest sand island in the world, dotted with 40 fresh water lakes, numerous creeks, and extensive rainforest. Just about all of the 123 kilometre length of the island can be explored by a four wheel drive. If you get tired of the beach, a network of sandy tracks weaves throughout the 23 kilometre width of the island.
What is there to do on Fraser Island?
Aside from cruising the beach in your four wheel drive, and picking a pristine campsite along the rainforest edge; there's a few other activities and sights you MUST make time for. You won't regret these!
Top 10 must see on Fraser Island
Explore the Maheno shipwreck

Beached in 1935 during a cyclone, the small crew of 8 camped on the beach for a few days until help arrived. The ship couldn't be re-floated or sold, and now makes an interesting stop and excellent photo opportunity

Cruise the entire length of 75 mile beach

This beach is actually a national highway, and also serves as a landing strip for light aircraft. It is an easy beach to drive, and with lowered tyre pressures won't present an issue. Small fresh water creeks run to the sea along its length and make for a fun splash every now and then.

Relax by the crystal clear waters of Lake Mckenzie

This is arguably the most popular lake to visit on the island and it's easy to see why. Pure white sand gives way to a lake of vivid blue, and the drive to get here from the beach is a lot of fun too!

Float along the calm, shallow Eli Creek

If you explore only one creek on the island, Eli Creek has to be it. The calm water is actually rather fast flowing, pumping four million litres of fresh water into the sea every hour! For this reason, taking an inner tube or pool toy upstream and floating yourself back down is a popular pastime.

Enjoy a natural spa at Champagne Rock Pools

The name says it all really! Jump in here and enjoy the bubbles as the waves break over the rocks behind you.

Grab a drink at the Driftwood Bar

The only pub on Fraser which offers ocean views. You can't go wrong.

Take in the view at Indian Head Lookout

A short but steep hike to the top of Indian Head will give you an incredible view out to sea, and all the way down 75 mile beach

Hike through the rainforest

While we're on the topic of hikes, if you find yourself at Central station; set aside some time for a walk. There's an easy 700 metre boardwalk option, or a longer one which takes in Basin Lake.

Marvel at 'The Pinnacles'

The Multi-coloured sands of the pinnacles jump out at you as you cruise 75 mile beach and just beg to be checked out. Hop out of the car and take a short walk through the base of them for a different perspective.

Check out the Sandy Cape Lighthouse

This makes an ideal end goal if you're cruising Fraser from south to north as it's right up at the northern tip.
How to get to Fraser Island
If you're taking a vehicle onto Fraser, there are two ferry points to choose from. From the south you have Inskip point, where the 10 minute ferry ride will drop you right at the start of 75 mile beach on the east of the island. To be dropped off on the west of the island, you'll take the River Heads ferryfrom Hervey Bay. Ferry costs and times do vary, so be sure to confirm these when planning your adventure.
Fraser Island camping fees and permits
Permits are required to access Fraser Island, and further camping permits are also required. At the time of writing, a one month vehicle permit was around $52 and camping permits vary with the number of people camping. Exact pricing can be obtained from Queensland Department of Environment and Science.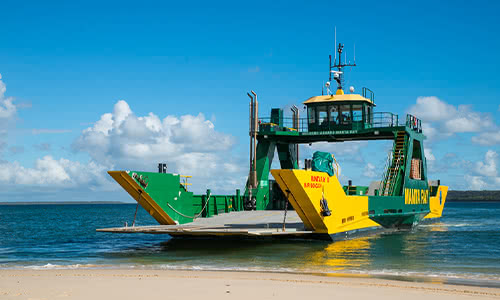 Top 4WD Tips For Fraser Island
Rule number one is tyre pressures. Make sure you have a tyre deflator, pressure gauge, and compressor to pump them back up. The beach on Fraser is fairly firm, so 18 psi is a good starting point for heavier vehicles. Lighter vehicles may need to go lower.
Flick your head lights on and keep left. The beach can be quite busy (including planes landing which you need to look out for) and there's a speed limit of 80km/h
Carry enough fuel to get you around the island if possible. Fuel is available on the island, but it's quite expensive compared to mainland prices
Watch the tides, and drive at low tide if possible. You don't want to be caught out!
Always carry a recovery kit and shovel
Perform a rust preventative treatment before your trip. This is as simple as washing underneath your vehicle, followed by a good coating of fish oil or other rust preventative
Have a ball on Fraser Island
Fraser island one of those places where you'll be amazed what you can see in two days, but still won't be tired of the place if you spend weeks exploring. Put this one on your bucket list, you won't regret it!