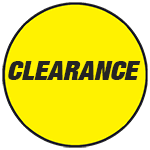 Meguiar's
Meguiar's Smooth Quick Clay Kit
Details
https://www.supercheapauto.com.au/p/meguiars-meguiars-smooth-quick-clay-kit/377216.html
Promotions
Additional Information
Full Product Info
Is this product right for you?
Meguiar's Smooth Surface Quik Clay Kit restores a smooth-as-glass feel to your paint by removing bonded surface contaminants the baked-on type that washing and polishing won't budge. Contaminates such as; industrial fall out, tree, sap and airborne salts. Completely non-abrasive, the clay bar safely lifts off and traps the contaminants that you typically can't see, only feel all without scratching. Removing these contaminates provides the perfect preparation before compounding, polishing or waxing. Makes wax dramatically easier to apply and much longer lasting.
Kit Includes:
- Quik Detailer 473ml
- 100g clay bar enough to rectify up to four cars

How easy is it to use?
It's easy, Check out the how to use a clay bar related article below for more information.
Features
Removes bonded contaminants from the painted surface
Makes waxing easier & longer lasting
Restores a smooth-as-glass surface
Kit Includes: 1 x Clay Bar & 1 x 473ml Quik Detailer
Recommended Products