So you've come to rather enjoy detailing your car, but your forearms hurt from hours on the polishing pad and you're only halfway through the job! Sounds like you need a machine polisher.
However, there's quite the selection at hand when it comes to polishers; and the ins and outs can be quite confusing. We're going to clarify all that right here, starting from the simplest types and working our way up.
Basic Orbital Polishers
These may be referred to as a fixed orbital polisher, or just 'orbital'. They are usually characterised by a large pad around 240mm in size, and large handles on either side of the machine. The pad does not spin on the machine, rather it rotates and makes small circles on the surface. This imitates the action of hand polishing, albeit much faster.
These are the least powerful pick of the bunch and typically fixed speed, but that's not necessarily a bad thing. Unlike the rotary tools we will talk about shortly; you can hop straight into polishing with no prior experience and run much less a risk of damaging your paintwork.
An orbital polisher is best suited to the application and buffing of wax, and will result in a deeper shine much quicker than you can achieve by hand.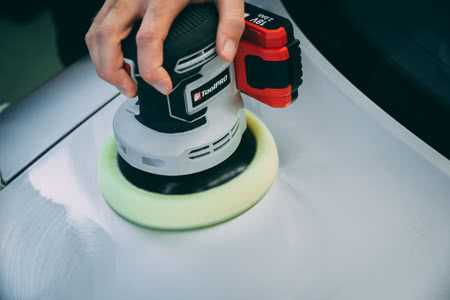 Dual Action Polishers
A dual action polisher is typically the go to for detailing enthusiasts, part time detailers and even top end professional detailers for certain jobs. These look much more like an angle grinder or sander with one handle towards the back of the machine, and another at the top or side.
On this type of polisher, the pad spins AND creates a randomly orbiting pattern. If you apply too much pressure, the spinning will cease and the polisher will continue the random orbital motion. This makes it much safer for your paintwork than a rotary polisher, but not quite as foolproof as the basic orbital polisher.
As far as power goes, you've got a lot more to play with on a dual action polisher, and on most models it's adjustable too! You can turn the speed right down for applying polish, turn it up for a more aggressive polishing action, and then back down for the gentle application of wax.
With one of these machines in your hands you'll be able to perform some moderate paint correction such as removal of water spots, minor swirl marks and restoration of slightly faded paint areas.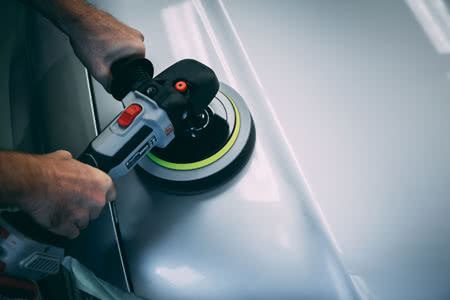 Rotary Polisher
With great power comes great responsibility. To wield one of these in your hands, you'll need to know what you're doing.
A rotary polisher looks very similar to the dual action polisher but is straight up like a power sander with a buffing wheel on it. There's no orbital action here, and many won't have adjustable speed control either. Just pure rotational power.
In the right hands, one of these can remove severe swirl marks, sanding marks and oxidisation in a jiffy. In the wrong hands, it can create swirl marks, burn paint and strip clear coat just as quick.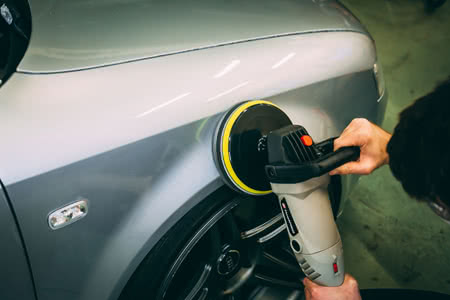 Sanders in All Shapes & Sizes4>
While all polishers will fall into one of these categories, they can differ a little in shape, size and style.
There's plenty of battery powered polishers for consideration on the market as well, including mini polishers for smaller jobs, spot polishing and finnicky areas. Some units can even function as a polisher AND a sander!
So how do I go about using one of these machines?
Before you start, wash the vehicle. Generally, you would go over the paint work with a clay bar as well before beginning any polish or waxing process. Also ensure you are working in a well-lit area. Good lighting will allow you to see swirling, scratches and defects clearly.
Step 1:

Once the panel is dry apply a small dab of polish to the applicator pad. Refer to the instructions for the product you are using here, as conditions may vary.

Step 2:

Place the buffer onto the panel and spread the polish before switching it on. Move the buffer constantly in an overlapping motion left to right and up and down.

Step 3:

Start with a low speed of rotation and slowly increase the speed but stay within the lower speed ranges to prevent damage. Buffers only require a light pressure to work. Keep your touch light.

Work in small sections completing one before moving on to the next. A light spray of quick detailer onto the pad can make application easier.

Step 4:

When the polish beings to dry or turn clear use a micro fibre cloth to remove the residue. Inspect the results and if you are satisfied move onto the next section.

Step 5:

To REALLY get the best shine out of your paintwork, switch to a woollen buffing pad and go over the polished areas.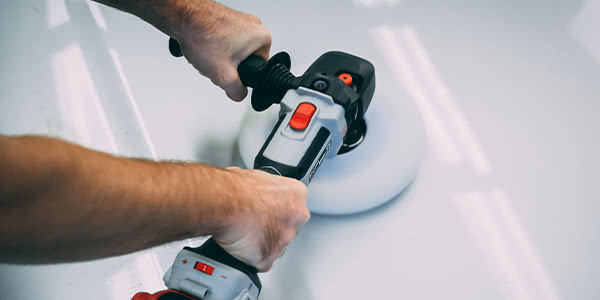 Congratulations on entering a world where polishing is a breeze. Who knows, maybe you'll be the next detailing superstar who keeps the luxury supercars looking their best on the streets!