The Importance of Changing Engine Oil Regularly
Engine oils play a crucial part in your engine's functionality. Without the oil, your engine can become damaged fairly quickly and so it's in your best interest to make sure that the engine oil is up to par.
The oil in your engine makes sure that the all mechanical components are lubricated to reduce friction, wear and heat. The engine oil ensures that components don't rub against each other and wear away. While it depends on how often you use your car, older engine oil doesn't perform as well and so a regular change in engine oil is essential to the functionality of your car.

Is it Necessary for Me to Change My Car's Engine Oil?
There are a lot of different components to an engine and a lot of them need to be properly lubricated when the engine is running. This is where engine oil comes into play.
Over time, your engine oil will begin to collect contaminants and while your oil filter will catch most of this, the oil can still remain contaminated. This results in the engine oil not being as effective, which can cause problems throughout your engine.
The easiest way to explain how oil works in an engine is using the analogy below.
Rub your hands together. You'll notice that your palms begin to get hot, this is due to friction. Now, if you add a few drops of oil (or hand wash) to your hands and do the same thing, less heat will be generated as friction is reduced. Following on from this, place some salt in the palms of your hand. Notice how even though your "oil" is still on your hands, friction is still being created. This is similar to how dirty oil reacts in a running engine.
So, to answer the initial question: yes, it is necessary for you to change your car's engine oil regularly.
If I Don't Change the Engine Oil, What Will Happen?
As we'll cover later in this article, an oil change is a fairly easy task to complete. Given the simplicity, it's advisable to change your oil when it needs to be done. If you choose not to then you may run into problems with your car's engine later on, some of which are more expensive to fix than others.
The main reason for engine oil is to lubricate the different parts of the engine, control the heat of the engine, and prevent components from wearing away. This may result in damage to some of your engine's components, a decrease in engine performance, and at worse engine parts may need to be replaced.
In some of the worst cases of heat damage, the engine's pistons may end up welded to the wall of the cylinder and the engine will seize up. This is an incredibly expensive thing to have fixed.
All in all, nothing good can come from not changing your engine oil!
How Regularly Should I Do an Oil Change?
There are a lot of things to consider when it comes to how often you should change your engine's oil. Factors such as the car that you're driving, the manufacturer's suggestions, how often you drive the car, and the type of oil which you use, are all important to consider here.
Because every car is different, the best thing to do is to check your engine oil regularly depending on how frequently you use it. If your engine's oil needs to be changed but you choose to ignore it, you may run into issues with your car and will see your car's performance slowly decrease.

How Do I Check a Dipstick?
Reading your dipstick and finding out if your engine oil needs to be replaced is fairly simple.
Below are the simple steps which are required for determining whether an oil change is needed with the help of the dipstick. When checking engine oil levels it's important to remember that vehicle components may be hot to touch, so take care. Be sure to check your owner's manual too.
Step #1 – Start off by making sure that the engine has been turned off for a minimum of fifteen minutes before you check the oil. You want the engine warm, not cold or hot.
Step #2 – When the engine is warm, remove the dipstick and wipe it using a lint free cloth or rag. Once the dipstick is wiped, place it back into the engine.
Note: when you insert the dipstick if it gets stuck then take it out, turn it around, and insert it again. The dipstick pipe is curved.
Step #3 – Remove the dipstick again and inspect the level of oil on the end of the dipstick. It's important to take note of how high the oil level is based on how much of the dipstick is covered.
If the oil is a darker brown/black colour, dirty, or appears gritty, we recommend youcomplete an oil change. If the oil appears a good amber colour but your oil level is low, then you needto add more oil to your engine.
Step #4 – Remove the oil cap from the your vehicle's engine, put a funnel in place of the cap to avoid making a mess, pour roughly 250ml of oil in slowly and re-check the dipstick level. Repeat this process till the dipstick indicates full and screw the cap back on. When adding oil to the engine; never use the dipstick pipe to do so.
As you can see, not everything about cars has to be difficult and topping up your oil is a fairly easy task.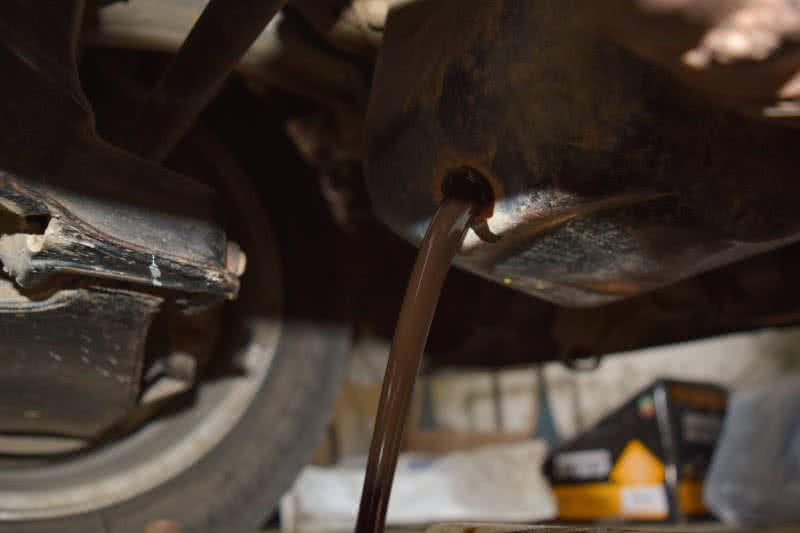 What is an engine flush? What does an engine flush do?
Each time your engine oil heats up, it evaporates slightly over time, in turn the oil then leaves oil deposits & sludge which constrict the flow of oil throughout your engine making your engine work harder to move the remaining oil around.You can add ann engine flush is added into your engine oil just before an oil change. The flush dissolves sludge and deposits from inside the engine, then drained with the old oil, leaving much cleaner internals than left untreated.
Oil filters can be incredibly effective and can catch particles as small as 10 microns. That being said, there are still a lot of particles located in the engine's oil stream which are smaller than this and even with a high-quality filter, these particles can't be removed. Over time, they can build up and cause a noticeable drop in your engine's performance. Sometimes, simply replacing an engine's oil won't get the job done, it is recommended that you change your filter every time you change your oil as this can ensure that your future oil remains cleaner for longer.
How Much Oil Do I Put in an Engine?
How much oil you should put in your engine depends on the car. To find out how much is the ideal amount, read your owner's manual. You will typically find this information under the section titled "Engine lubrication". The information which you will find here includes the oil capacity of the engine as well as the ideal viscosity and type of the oil that you should use in your engine.
Make sure you check out our Parts guide for information on what oil suits your vehicle as well as oil capacity.