A 100km stretch of coastal forest with world class surfing, wineries, scenic drives, 4x4 tracks, and an immense cave system. There's something for everyone between the two capes!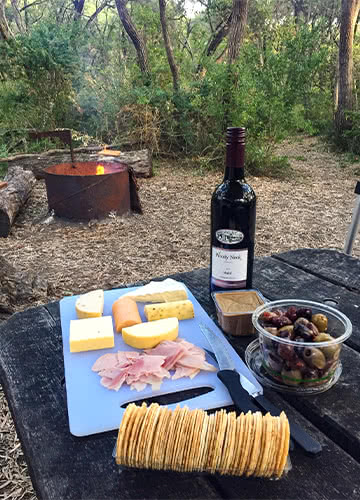 What makes the Margaret River coast so incredible?
Cruising through the small Margaret River on your average weekend, it is easy to pick what kind of people enjoy the area. You'll see Mercedes owners out for a wine cruise, family wagons with caravans in tow, classic cars out for their monthly cruise, 4x4s loaded with swags and mountain bikes, and of course – plenty of backpacker vans with surfboards atop their roofs.
The perfect mix of upmarket wineries, old growth forest to explore, trendy boutique shopping and secluded camping and 4x4 tracks brings literally all sorts to the area.
Margaret River sits on the road between Cape Naturaliste to the north, and Cape Leeuwin to the south. The distance between these two capes is roughly 100 kilometres, and Margaret River sitting roughly in the middle of this makes it the perfect base for exploration.
What is there to do around Margaret River?
A multi-part novel could be written on this but let's keep it to the very best of the best.
Sort yourself out with snacks and drinks

Wineries, distilleries and breweries are dotted all through the landscape around here and you could easily spend a week sampling all their wares. Our tip for choosing one; close your eyes, point at the map and visit whichever one your finger lands on. Don't forget the snacks either! There's a candy shop in Cowaramup, and a chocolatier just down the road from there!

Explore the caves

Some of the most spectacular caves in Australia lie only 15 minutes out of Margaret River. A handful of them are operated by the local parks department, with infrastructure set up to make them easily accessible. For those more adventurous souls; maybe book a guided cave adventure tour into the challenging caves not accessible to the public!

Cruise Caves Road

Driving the road which links all the caves (and a lot of the wineries too) is an experience in itself! The blacktop winds through old growth forest with pull outs along the way where you can stop and absorb the towering beauty of karri trees.

Surf World Famous Beaches

The Margaret River Pro is a surfing event which brings competitors from around the world each year, and you can surf those same beaches yourself! Surfers Point, Injidup Beach, Cowaramup Bay and Smiths Beach are just a few of the most popular places to show off your skills, or just admire that of others.

Explore hours of 4WD Tracks

Short 4WD tracks run to secluded beaches most of the way along the length of Caves Road. All you need to do is find a dirt track and head west. But in the interest of getting you started head west on Point Road, or a bit further south at Boranup Drive and just explore!

Shop for items you'll find nowhere else

Like many country towns, the Margaret River main street is full of quirky shops dealing in all kinds of local and handmade goods you won't find anywhere else. And of course, there's bakeries. Never pass up an opportunity to visit a bakery!

Camp out in the Karri forest

The south west region of Western Australia is home to the spectacular Karri and Tuart forests. Take a few days to kick back and absorb nature in the Conto campground (accessible via 2WD vehicles) or choose the more secluded, 4WD only Point Road campground.

Give the bike a workout at Wooditjup

This mountain bike and walk trail is situated just 3 kilometres out of the Margaret River town centre, and offers bike trails to suit all skill levels. Once you've explored all this, head to the local bike café for the lowdown on more bike trails in the area

How to get to Margaret River
From Perth, your quickest way to Margaret River is via Kwinana Freeway south into Forrest Highway. Head all the way to Busselton and Vasse, and the Bussell highway from there will take you straight there. The drive is 275 kilometres and should take you around 3 hours to complete.
Preparing for a trip to Margaret River
Take a drive down to Margaret River and you'll surely be back. Cruise the wineries in your classic car, then bring the four wheel drive down for an off-road adventure the next weekend! There really is something for everyone