There's more to keeping your camping fridge cold than just turning it on and driving away. Sure, it will work, but to really get the most efficient cooling; we've got 3 key principles to ensure your food stays fresh and your drinks stay cold.
Principle 1 - Wiring
It's fairly obvious your fridge won't do anything without power to it. But have you ever thought about the wiring behind that socket in the back of your vehicle?
This wiring should be at least 6 millimetre diameter cable, especially as the distance from your battery to the fridge can be 4 or 5 metres. Thinner wire over such a long cable run can cause voltage drop, which means your fridge will draw more amps, possibly not cool quite as well or even blow fuses repeatedly.
Also, consider using an Anderson plug to connect your fridge. Standard accessory plugs can easily pop out when travelling rough roads.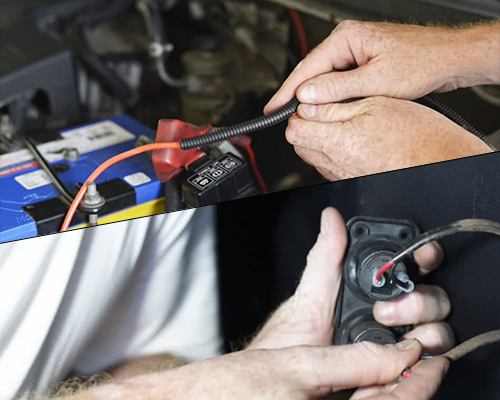 Principle 2 - Installation
Where and how to mount a fridge?
The heat extracted from your fridge needs somewhere to go, and blocking the vents leads to your fridge working harder and drawing more power. Don't mount it hard up against its vents, and keep other equipment clear for good ventilation.
If your fridge is mounted in the cargo area, consider fitting a set of insulated sun shades. More heat and sunlight hitting the fridge cabinet means more work for the compressor to cool it.
Last of all, consider purchasing an insulated travel bag for your fridge. These further help to keep heat off the cabinet, yet are designed with ventilation in the right places to let the heat out.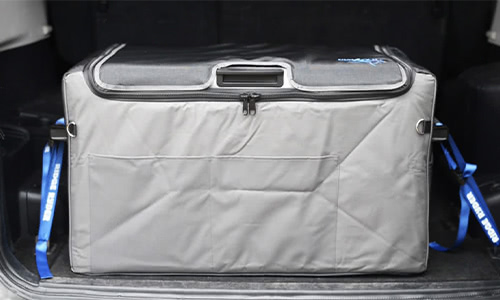 Principle 3 - Habits
Lets start at home, packing the fridge. Do this the night before you leave, as cooling warm food will use a lot of your battery. Either pack everything into the home fridge to keep cool overnight, or plug the car fridge into mains power.
Always try and keep your fridge as full as possible. It will use more energy to cool empty space than it will keeping food and drinks cold. Use the same rule you do at home and try to open the fridge as little as possible. Don't want all the cold air to escape!
Once you pull up to camp, think about where you can park your vehicle to keep the sun off the fridge. Try and open up some windows or doors to let a fresh breeze through and whisk away warm air. If you can park the car where the fridge is situated in the shade; even better.
Follow these few simple tips and your 12 volt fridge will make your camping experience an absolute pleasure with longer life from your battery, fresher food and drinks; and more time to spend outdoors!