Coffs Harbour is an absolute mecca of off-road adventures with some of the most challenging 4WD tracks in the country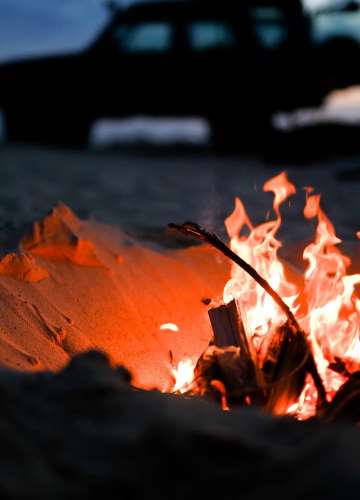 What is the Coffs Harbour all about?
Remember back to when you were a kid and there was nothing more exciting than a playground. Being able to run around from one obstacle to the next, always have some other challenge waiting right around the corner was enough to get screaming 8 year old kids losing their minds in excitement. That's Coffs Harbour for 4WDers. An absolute mecca of off-road adventures with some of the most challenging 4WD tracks in the country all within a stones throw of each other, stunning isolated beaches, and a quick drive to the ice cream parlour if you behave yourself. It doesn't get any better.
Things to do in Coffs Harbour
There's two distinct landscapes that make the east coast such an action packed place for 4WDers, the mountainous country from the Great Dividing Range, and the stunning beaches. Coffs Habrour is one of the most spectacular places the two come together.
Top 10 things to do on your Adventure

>Pull up a Stump at Pebbly Beach for the Night

One of the best kept secrets in the country and hinted at only by a stray track heading off into a pine forest, Pebbly Beach is hands down one of the most stunning campsites you'll ever find. Tucked away behind an inlet it's only accessible twice a day at low-tide so once you're in you're in, which works well because once you're in you'll never want to leave

>Drive Rover Trail

Coffs is home to some of the most varied 4WD terrain in the country but Rover Trail is the perfect starting point for people looking to push their rigs without doing too much damage. You'll want at least 33s and a locker or two to take on this route.

>Watch the Sunrise over the Town

High in the hills behind Coffs is a view to end all views – the Forest Sky Pier extends out high above the rainforests a full 300m above the town with views forever in every direction. Make the trek up nice and early to see one of the best sunrises in town.

>White Water Rafting

Not keen on punting your 4WD into a wayward rut but still want one hell of an adventure? The Coffs hinterland is home to some of the wildest river systems you can imagine, and even wilder people to show you around. Strap yourself in for a white water rafting tour and see parts of the country no one sane has seen before.

>Take on Commando

Fancy yourself a tough truck champion and want to prove it to the world? Coffs has no shortage of tracks to test your mettle. Widowmaker and Commando are two of the most notorious tracks in town and will not only push your 4WD to the limit, but your courage too. Bring lockers, big tyres, and a winch and expect a repair bill on the other side.

>Join a Jeep Safari

Jeep's have a thriving sub-culture in Australia and it's shown in full force every year with the appropriately named Camp Coffs event. From all over the country soft-tops and huge tyres descend on the small city and take to the hills to push their rigs to the absolute limits making for one hell of a sight.

>Watch the Rally

The hills are alive with the sounds of open gated turbos screaming at wide open throttle, at least it is once a year. Coffs Harbour has played host to the world rally championships final round for years now, and while it's taken a hiatus for 2020 it's expected to return in 2021, the tracks might be harder to navigate while the circus is in town but it's a damn good excuse to head to Coffs.

>Visit the Big Banana

We're not entirely sure why Australia seems to be covered in comically sized roadside attractions, but the big banana is definitely one of our favourites. It's fronting a mini-amusement park with downhill toboggans, a water park, ice skating, and on-site lolly making.

How to cross the Coffs Harbour
Whether you're planning on spending a week or a month in Coffs Harbour you'll barely scratch the surface so it's worth moving camp at least once or twice to get a good idea of what the place is all about. We'd recommend stocking up on supplies in town before heading north to Pebbly Beach for a night to ease yourself into low-range life. From here you can head west out into the hills for some of the most challenging 4WDing you can imagine before coming back to civilisation bruised and battered a few days after. If things do go pear shaped there's no shortage of parts of workshops in town so you're never far from help.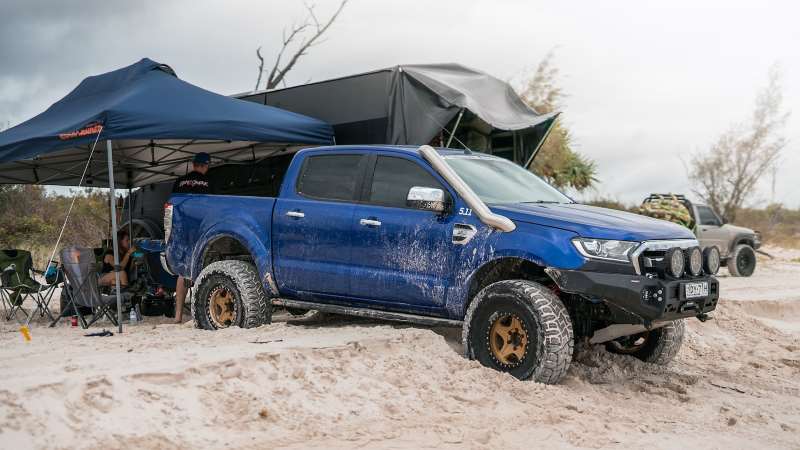 Location camping fees and permits
If you're heading to Pebbly Beach – and you absolutely should – you'll need to get a day pass for the surrounding Yuraygir National Park for $8 per day per vehicle. Camping itself requires booking, and attracts a fee of $24 per site with a maximum of 6 visitors per site. Most of the surrounding areas are generally state forests so won't require permits or fees, but as always, look at the areas you're heading into as a permit is a lot cheaper than a fine.
Top 4WD Tips for Coffs Harbour
Don't get too far ahead of yourself – There's tracks in Coffs Harbour for experienced or beginner 4WDers, but very rarely is there any indication of exactly which is which. There's plenty of maps available of the area and a wealth of local knowledge so don't be afraid to ask for tips on places to head.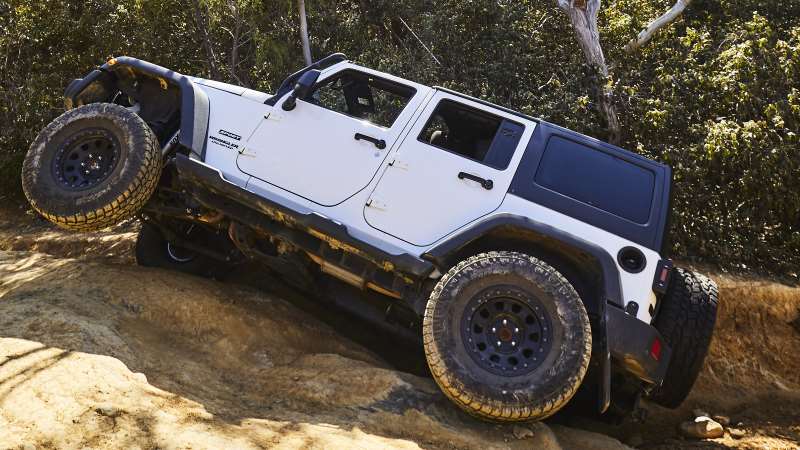 >Enjoy the Town

Look for some people 4WDing is all about getting away from it all, but when the fun stuff is right next to the easy stuff why not make the most of it. There's not too much places where you can wake up on the beach, spend all day in the hills, then cap it off with a pub feed afterwards.

>Bring a Winch

It feels like we're repeating this constantly but in hilly terrain the ability to safely move or recover your vehicle can't be rated highly enough. Whether you're anchoring yourself while changing a tyre, safely getting through a difficult section of track, or helping someone out of a situation they shouldn't be in a 12v winch is the most useful tool you can have.

>Bring Tools

Steep rutted terrain is the perfect storm for mechanical failure so bring a basic tool kit and have the ability to bush-fix yourself to get back out onto solid ground. Recovery crews are available to come get your out of trouble, but they're a lot more expensive than a spanner roll and socket set.

>Know the Tides

Beach driving is an absolute blast, but there's nothing worse than rocking up to camp with 6hrs before you can access it – we've been there before and it didn't go well for the drink fridge while we waited.
A 4WDers Playground
If you're a new 4WDer out for your very first trip or a seasoned veteran looking to push yourself and your rig to the limit Coffs Harbour has it all. From countless hill climbs and river crossings to hidden waterfall camp sites and lookouts that should be world famous you're in for one hell of an adventure. Load up the 4WD with some basic camping gear, throw a tin or two of chilli on a campfire and go exploring.