*WARNING* DO NOT USE IN ENCLOSED VEHICLE
Please ensure gas stove is as far away from vehicle and has as much ventilation as possible. As with any cooking, please keep children away. Please refer to the safety section in your butane stone manual for more information.
The idea of a drop down rear door table in a 4wd is nothing new. Every wagon owning man and his dog has come up with their own design. And that's the beauty of it! As such a simple project, you can tweak it to suit your needs. This version is designed to be lightweight and not too bulky, yet strong enough to throw together a sandwich on.
Materials Required:
A sheet of aluminium at least 3mm thick
A piece of thin galvanised or stainless steel sheet metal
LED strip light (optional)
Adhesive foam tape or rubber seal
Three simple hinges
Wire rope and crimp joiners
Elastic toggles
A Handful of small pop rivets
Tonneau bunji cords
Tools Required
Lets get this project started!
In this example, we're removing the factory door trim and replacing it with the galvanised sheet metal for a few reasons. First of all, it's like a splashback in your kitchen. Much easier to wipe away the grease if you cook on the door table. Second, it will contain the infrequently needed spare parts we plan to store inside the door cavity (wheel bearings, spare belts and hoses etc)
While you have this open, it's the ideal time to run the wiring if you're fitting the optional LED strip light. A great place to mount the light is at the top of the door, where it will spread plenty of light right over the table where you need it.
Measure up the door and mark these measurements onto your thin sheet metal. Take your time measuring and creating contours where needed to get the neatest fit possible. Then take to it with the tin snips and file down any sharp edges.
Before attaching this new trim, it pays to strategically place some foam or rubber pads around the place to stop the steel sheet rattling against the door trim. That would drive you nuts!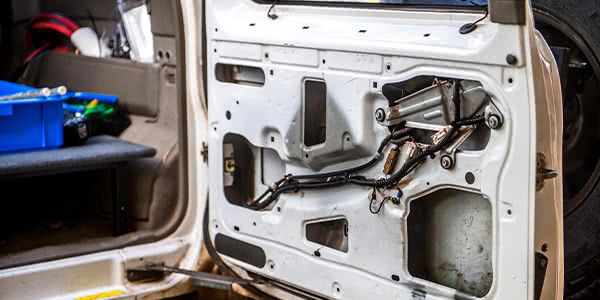 We've opted to drill and screw this trim in place, one phillips head screw every 150mm to 200mm. This is to keep it removable for access to the spare parts if needed. If you choose not to hide any spare parts away, pop rivets are a neat way to secure it too.
Now we've come to the actual table, which is where most people use plywood. Our choice of aluminium here is thinner, lighter, and can be easily wiped clean. Again, measure up the door for size, and mark this out on your aluminium. Then cut it to size with your jigsaw or angle grinder and pay close attention to filing down any sharp edges.
Next, mark out the position of your hinges, then mark the holes to be drilled for mounting them. On the table side, pop rivets are the perfect choice of fastener. On the door side, use screws if you've designed your sheet metal door trim to be removable.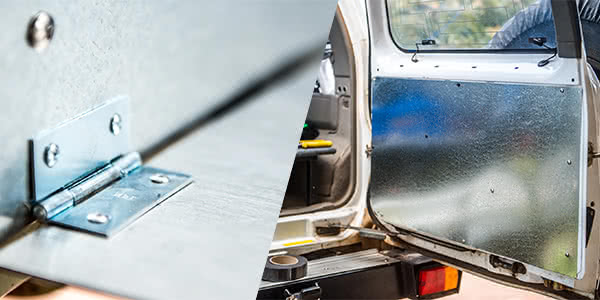 So you've got a door table in place, but…it's hanging down. We need something to support it. A small chain is a popular option, but it will create rattles. This is where we're using wire rope instead.
Drill a couple of holes in the sides near the top edge of your table, feed the wire rope through; and attach it with the crimp joiners. That set of locking pliers you grabbed does a good enough crimping job for this purpose. At the top of the door, you can drill a couple more holes and use a rivet nut to attach the wire. Just pull the table up until it sits in a position you're happy with, create a loop in your wire for another crimp; and cut it to this length.
The last step is fixing the table up when not in use. Elastic toggles like those used on ute tonneau covers is the way to go. They will prevent rattles and with the small mass of the table it will hold quite tight, and they come with everything you need to fix them in the pack.
And there you have it! Nobody ever complained about too many tables to put things down on, and you have just added probably the handiest mod to your vehicle.